I've been selling artwork & taking commissions on Depop for over 5 years now, and during that time I've had loads of messages off various people asking for advice on how to sell their own artwork on there, so I thought I'd create this crib-sheet type page to accumulate all the common questions together.

Answer: Hi! I actually print them myself with my home printer if they're below A4, or I take them to a local photographers/printers to get large formats printed. Using a printers usually costs me between £1.50 - £5.00+ per print, but so long as you price accordingly the quality will be much higher.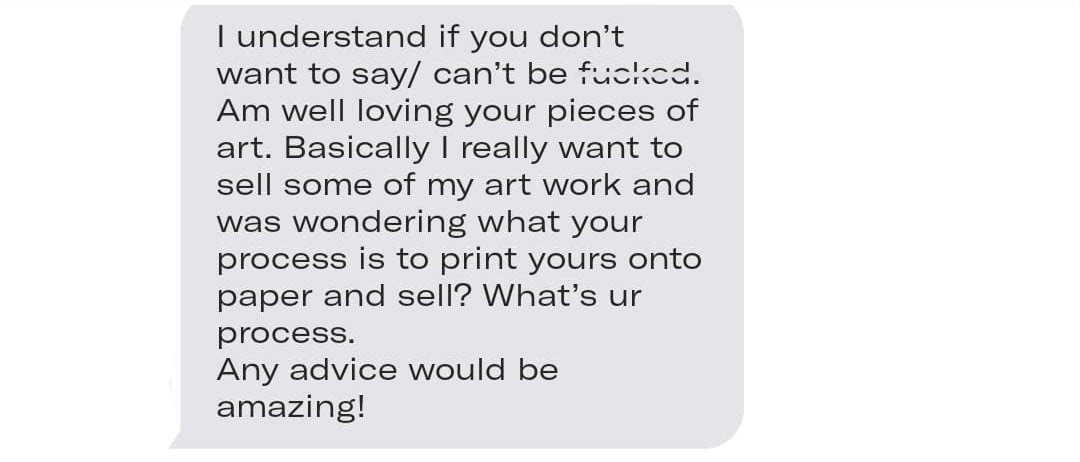 Answer: Thanks very much! Depending on what location I'm at (I have live at 2 residents) I usually print my previously scanned designs using an industry standard ink-jet printed onto 90gsm glossy paper! (I buy the paper in Tesco or photography shops) if I don't have access to the printer I go to my local photography shop where they print out photos for you, many places do it, all you have to do is take a USB in with your designs and they print it onto whatever stock you want! Depending on what access to printers you have, you can charge accordingly.

Answer: No problem! In my local it is really quite cheap, for a full colour A4 image it's definitely less than £5! I think my last one cost around £2.80, and I do have a website but I'm a graphic design and illustrator, so I sell on Depop just for passive income. I would suggest looking at sites like Redbubble and Teepublic though, (my teepublic is linked above if you want to see what it's like!) They're really good because all you have to do is upload an image to them and the site does the rest for you.
Answer: I send all my prints in cardback flat envelopes, with extra card wrapped around the print! And it's all sent through signed for on delivery via Royal Mail so it can still be tracked and sent back to me if there are any damages or if it's not collected.